Attending a business conference as a woman is an exciting opportunity to network, gain insights, and learn from industry leaders. However, deciding what to wear to a business conference is daunting, especially if it's your first time attending.
Dressing appropriately for a business conference is crucial, as your attire affects how others perceive you and your overall confidence during the event. So, what to wear to a business conference female?
Women should consider wearing business professional or business casual attire, which includes pants, skirts, dresses, blouses, button-down shirts, and blazers. Neutral or solid colors and comfortable and professional dress shoes are also recommended.
This article will provide tips and guidance on what to wear to a business conference female. By following these tips, you'll be sure to make a professional and lasting impression at your next business conference.
What Is The Business Conference Environment? Why Is It Important To Understand?
The business conference environment refers to the atmosphere, setting, and activities during a conference. Understanding the business conference environment is crucial because it can impact how attendees interact with each other and the event's overall success.
In general, attire is an essential aspect of the business conference for building relationships, gaining knowledge, and promoting any brand or product. Dressing appropriately can help attendees feel more confident and prepared and contribute to a positive first impression.
Dress codes vary depending on the type of business conference and its specific guidelines, but generally, formal or business attire is expected. Understanding the business conference environment can also help attendees navigate networking opportunities, schedule their time effectively, and engage more effectively with the event's content.
What Are The Different Types Of Business Attire?
When attending a business conference or event, selecting the appropriate attire is crucial to making a good impression. But with so many different types of business attire, it is overwhelming to determine what is most appropriate for the occasion.
Business Professional
This is the most formal business attire in high-level corporate environments or formal business meetings. It includes tailored suits in neutral colors, such as black, gray, and navy, paired with a collared dress shirt and dress shoes. Women wear pants or skirt suits paired with a blouse or button-down shirt and closed-toe dress shoes.
Business Formal
It is similar to business professional but has more color and style options. Men wear suits in a wider range of colors, such as charcoal or dark blue, and can experiment with different shirt and tie combinations. Women wear dresses or skirts with jackets or blazers paired with dress shoes.
Business Casual
This attire is less formal than business professional or business formal but still requires a professional appearance. Women wear dress pants or skirts paired with a blouse or sweater and closed-toe shoes. In contrast, men should wear slacks or khakis with a collared shirt, dress shoes, and a belt. However, jeans and sneakers are typically not acceptable in a business casual environment.
Which Guidelines To Follow For Dress Codes In Different Settings And Events?
Dress Code Guidelines refer to rules or guidelines that determine the appropriate attire for a specific event or situation. The following are the main components of the Dress Code Guidelines:
Researching the Dress Code: It is essential to research and understand the dress code requirements for the event or occasion. Dress codes vary depending on the event's formality, location, and cultural background.
Understanding the Event Type and Setting: Understanding the event's nature and location is essential in determining the appropriate dress code. For example, a business conference may require business professional or casual attire, while a formal evening event requires formal attire.
Following Dress Code Rules for Women: Women's dress code guidelines often differ from men's, and it is essential to follow specific dress code rules for women. Some standard dress codes for women include business professional, business casual, and formal dress codes.
Examples of Appropriate and Inappropriate Clothing: It is helpful to have examples of appropriate and inappropriate clothing for each dress code. For example, a knee-length skirt and a blouse may be appropriate for a business casual dress code, while jeans and a T-shirt are inappropriate.
What To Wear To A Business Conference Female?
When choosing clothing items for a business conference, consider the dress code and the overall professional environment of the event. Here are some key clothing items to consider:
Pants: Different pants options include casual pants, dress pants, khaki pants, yoga pants, black pants, and colored pants. When selecting pants, choosing something comfortable that fits well and looks professional is important.
Shirts: Shirts are another important consideration, including button-down shirts, collared shirts, dress shirts, polo shirts, white shirts, and button-up shirts. Choose a shirt that fits well and complements the rest of the outfit.
Skirts: Skirts are a versatile option, with choices such as pencil skirts, -line skirts, knee-length skirts, and skirt suits. When selecting a skirt, it's essential to consider the dress code and the overall professional environment.
Dresses: Dresses are an excellent option for a business conference, with choices such as casual, black, and evening dresses. Select a dress appropriate for the dress code and the overall tone of the conference.
Jackets: Jackets are an important accessory to consider, with options such as blazers and other appropriate jackets. A well-fitted jacket helps complete an outfit and adds an extra professional touch.
Shoes: Shoes are an essential part of any business conference outfit. Dress shoes, comfortable shoes, casual shoes, formal shoes, presentable dress shoes, and professional shoes are great for conference outfit. So, select comfortable shoes for long periods and complement the rest of the outfit.
Other Things Female Should Consider When Attending A Business Conference
Attending a business conference like International Business Management and Economic Conference in Canada is a valuable experience for networking and learning new skills, but it's important to be prepared. Below we will discuss things you should consider when attending a business conference.
Expenses Tax Deductible
Depending on your country and circumstances, some expenses related to attending a business conference are tax deductible. This includes registration fees, travel costs, and even meals and lodging. Keep track of your receipts and consult with a tax professional for guidance on what is deducted.
Bringing Business Cards
When going to participate a business conference, it is crucial to what to bring and what to not. For example, business cards are an essential networking tool, allowing you to exchange contact information quickly and efficiently. So, bring plenty of business cards to a business conference, and keep them easily accessible in a cardholder or other organized system.
Business Conference Cost
The cost of attending a business conference varies widely depending on location, duration, and level of access to events and activities. Make sure to research the cost of a conference in advance and budget accordingly. Think about any additional expenses like travel and lodging.
Attending Marketing Conferences
Marketing conferences are a great way to stay up-to-date on industry trends and network with other professionals. When attending a marketing conference, attend relevant sessions and workshops. Communicate with other attendees, and take advantage of any opportunities to showcase your work or expertise.
Business Travel
Attending a business conference involves traveling to a new location, which is exciting and stressful. Make sure to plan for any travel logistics like flights and ground transportation. Take steps to minimize stress, like packing light and arriving at the conference location a day early.
Colors And Patterns For Female When Choosing Attire For A Business Conference
When dressing for a business conference, colors and patterns impact your appearance and professionalism. Some considerations for colors and patterns include: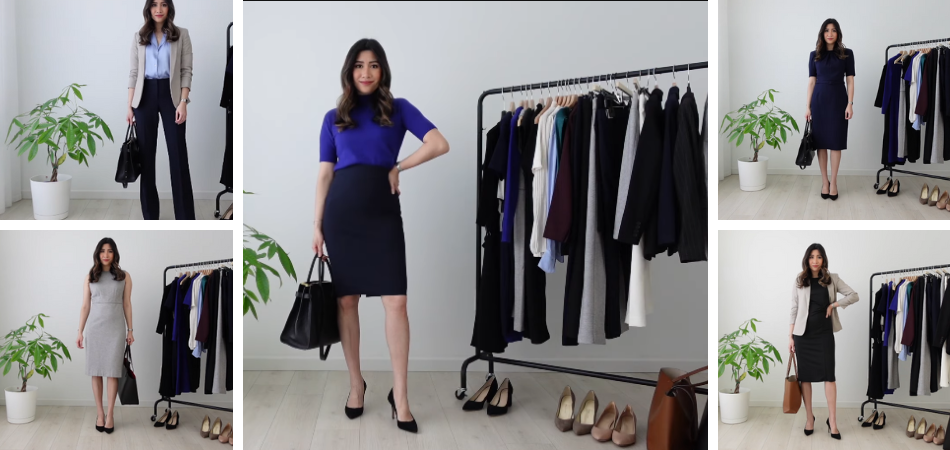 Basic Colors: Basic colors such as black, white, navy, and gray are classic and versatile options incorporated into any outfit.
Solid Colors: Solid colors like burgundy, olive, and camel can add a pop of color to an outfit while maintaining a professional look.
Bright Colors: Bright colors such as red, yellow, and pink are bold and eye-catching but should be used in moderation to avoid appearing too flashy.
Neutral Colors: Neutral colors like beige and taupe can provide a subtle and understated look and can be easily paired with other colors.
Bold Colors: Bold colors such as royal blue or emerald green can add a touch of elegance and sophistication to an outfit.
Color Of Trust: Colors like blue and green are often associated with trust and dependability and are a good choice for a business conference.
Color Scheme: When putting together an outfit, consider the overall color scheme and ensure that the colors complement each other.
Patterns: Patterns such as stripes or checks add visual interest to an outfit but should be used in moderation to avoid appearing too busy or distracting. When choosing patterns, ensure they are appropriate for the event and setting.
Conclusion
Attending a business conference is an excellent opportunity to network and learn from industry experts. However, you should dress appropriately to make a good impression and demonstrate professionalism.
This article thoroughly describes what to Wear to a business conference female? By understanding the different dress codes, choosing appropriate clothing items, and paying attention to details like color and pattern, women can confidently navigate the dress expectations of a business conference.
Remember to bring essential items like business cards and chargers, and consider the expenses and tax deductions associated with attending. With these tips, you can dress for success and make the most of your business conference experience.