Attending a business conference is a valuable opportunity to learn, network, and promote your business. However, it is also overwhelming and daunting, especially for those attending for the first time. If you're one of them, then how to attend business conference.
To attend a business conference, register and pay a fee, plan your travel and accommodation. Prepare necessary materials and research the conference agenda and speakers to identify which sessions and events to attend.
In this article, we will provide a comprehensive guide to attending a business conference. Whether attending a small local conference or a prominent international summit, this guide will help you make the most of your conference attendance.
Importance Of Business Conferences
Business conferences play a crucial role in individuals' and organizations' professional growth and development. It is considered business travel, as it helps to grow a business. Attending business conferences is important for many reasons:
Networking
Business conferences provide an excellent opportunity to network with industry professionals, potential customers, and partners. For example, the upcoming Business Management and Economic Conference in Canada will bring together a diverse range of people with similar interests and goals, providing a chance to connect and build relationships.
Learning
It offers a wealth of knowledge and expertise through keynote speeches, seminars, workshops, and panel discussions. Attendees can learn about new industry trends, techniques, and best practices applied to their businesses.
Branding
Business conferences are a cost-effective way to promote your business and build brand awareness. You can showcase your products or services and connect with potential customers and partners. Attending conferences also shows that you are actively involved in your industry and committed to staying up-to-date on the latest developments.
Motivation
Attending business conferences is a source of inspiration and motivation. Seeing successful industry leaders and hearing their stories help you stay focused and motivated to achieve your goals.
How To Attend Business Conference?
Business conferences are a great way to network, learn about industry trends, and stay up-to-date with the latest technologies and innovations. Whether you're attending a conference for professional development, finding new clients, or expanding your knowledge, there are certain steps you can take to make the most out of your experience. Here are some tips on how to attend a business conference: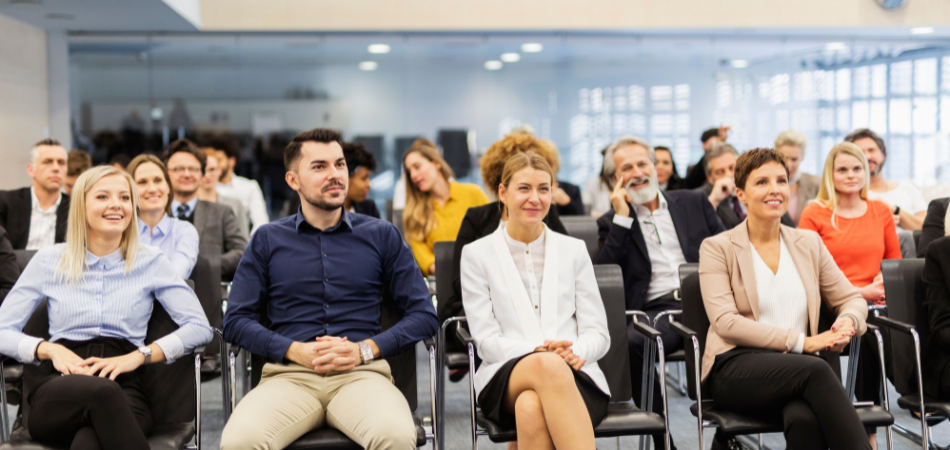 1. Plan Ahead
Before attending a business conference, it's essential to plan ahead. Research the conference agenda, speakers, and attendees beforehand to help you set specific goals and prepare questions to ask during the event. Create a schedule of sessions and activities you want to attend and ensure you have all the necessary materials, like business cards and brochures.
2. Dress Appropriately
Your appearance plays a crucial role in making a good impression. So, dress appropriately for the conference, which usually means business casual attire, whether male or female. You want to look professional, approachable, and comfortable to sit through long sessions.
3. Network Effectively
Networking is one of the primary reasons for attending business conferences. Take advantage of this opportunity to connect with industry professionals and peers. Attend social events, interact with other attendees during breaks, and join discussion groups to broaden your network.
4. Engage in Sessions
Ensure you participate in conference sessions and workshops. Don't be afraid to ask questions, share your experiences, and engage in discussions. This will not only help you gain valuable insights but also help you connect with other attendees who share your interests.
5. Take Notes
Taking notes during conference sessions can help you retain valuable information and remember key takeaways. Use a notebook or digital device to jot down notes on what you learn, questions you have, and ideas that come to mind. Review your notes after the conference and organize them to help you apply what you learned. This will help you to organize successful business conferences in the future.
6. Follow Up
After the conference, follow up with new contacts you made. Send personalized emails or LinkedIn messages to thank them for their time and suggest ways to stay in touch. You can also share information and insights you gained from the conference and ask for their feedback.
How To Maximize The Conference Experience?
Attending a conference is an exciting and valuable experience for professionals. Below are some aspects of the conference experience to consider:
Navigating the Conference Floors: Once you arrive at the conference venue, get your bearings and find out where everything is located. This includes finding registration, session rooms, networking areas, and exhibitor booths.
Attending Sessions: Conferences usually offer a variety of educational sessions, such as keynote speeches, breakout sessions, hands-on workshops, in-depth seminars, and interactive panel discussions. Take advantage of these opportunities to learn new information and gain insights from industry leaders.
Elevator Pitches and Networking Strategies: It's essential to have a clear and concise elevator pitch ready to introduce yourself to new people at the conference. Also, consider networking strategies such as identifying the key people you want to meet and connecting with them during the conference.
Taking Advantage of Business Networking Events: Many conferences offer dedicated networking events, such as receptions, dinners, or meetups. Attend these events and use them to connect with new people and strengthen existing relationships.
Using the Conference Hashtag and Following Trends: Social media is a valuable tool to stay connected during the conference. Use the conference hashtag to join the conversation, share your thoughts and insights, and stay updated with the latest trends and news.
Discuss Post-Conference Follow-Up
After attending a conference, follow up with contacts you made and continue to build those relationships. This is done through email or social media.
It's also important to review any post-show content, such as session recordings or presentation slides, to refresh your memory on what you learned and identify any key takeaways. This information is shared with colleagues who were unable to attend the conference.
Sharing educational content also helps to reinforce your position as a thought leader in your industry and build your network. You can easily do that by creating blog posts or sharing content on social media.
Lastly, staying up-to-date on industry trends is important for maintaining a competitive edge. So, follow industry publications, attend webinars or other events, and connect with thought leaders in your field.
How To Obtain Post-Show Content And Educational Resources?
Obtaining post-show content and educational resources from a business conference or event is a great way to continue learning and networking even after the event has ended. Here are some suggestions for obtaining these resources:
Check the conference website: Many conferences will post materials like presentations, handouts, and videos on their website after the event.
Reach out to speakers: If there was a particular speaker or presentation you found valuable, consider contacting them directly to request any materials they have used.
Connect with attendees: Networking with other attendees is also a great way to share knowledge and resources. Consider connecting with them on social media or email to discuss the event and exchange resources.
Search online: Lastly, searching for articles, blog posts, and other content related to the event or industry can also provide valuable educational resources.
Must-Attend Business Conferences And Events
Numerous must-attend business conferences and events provide valuable networking opportunities, educational sessions, and insights into industry trends. Here are a few examples:
Texas Conference for Employers: This two-day conference focuses on employment law, human resources, and best practices for managing employees. It is a great opportunity for HR professionals, business owners, and managers to stay up-to-date on employment regulations and network with peers.
Bank Marketing Conference: This event brings together marketing professionals from the banking industry to discuss the latest marketing strategies and techniques for promoting financial products and services. Attendees can learn from experts in the field, gain new perspectives, and network with peers.
Digital Marketing Conference: With the increasing importance of digital marketing, this conference provides valuable insights into the latest trends, tools, and techniques for successful online marketing. Attendees can learn about SEO, social media, content marketing, and more from leading experts in the field.
Small-Business Conference: This one-day conference is designed for small-business owners and entrepreneurs. Attendees can gain valuable insights into starting and growing a successful business, learn about financing and marketing strategies, and network with peers.
Other Types Of Business Events To Attend
Attending various types of business events can be beneficial for personal and professional growth. In addition to business conferences, other events can provide unique networking opportunities, learning, and growth opportunities. Below are some important events:
Industry Events
Industry events are specialized gatherings that bring together professionals within a specific industry or niche. These events often provide opportunities to network with industry leaders, learn about new technologies and trends, and gain insights from industry experts.
Business Networking Events
Business networking events create opportunities for professionals to connect, build relationships, and generate new business opportunities. These events include mixers, cocktail hours, or other informal gatherings.
Summits
Summits are high-level events that bring together thought leaders, experts, and professionals to discuss a particular topic or issue. These events often feature keynote speakers, panel discussions, and workshops to facilitate learning and networking.
Digital Health Summit: A summit that explores the intersection of healthcare and technology, featuring experts in digital health, telemedicine, and AI.
Adobe Summit: A conference for marketers, advertisers, and creative professionals that provides insights on digital experiences, customer data management, and content creation.
Expos
Expos are large-scale exhibitions where businesses and organizations showcase their products, services, and technologies. Attendees explore different booths and learn about the latest innovations in various industries. Below are some examples of expos:
Berlin Expo: The Berlin Expo is an annual event that showcases a wide range of products and services from various industries, including automotive, construction, and electronics.
E-commerce Berlin Expo: This expo is Europe's largest e-commerce event, focusing on e-commerce technology, services, and marketing. Attendees can learn about the latest trends, tools, and strategies for growing their online businesses.
ITB Berlin: ITB Berlin is the world's leading travel trade show, featuring exhibitors from over 180 countries showcasing their travel products and services. Attendees can network with travel industry professionals, attend workshops, and learn about the latest trends in travel.
Conclusion
Now, you know how to attend business conference. Attending a business conference is a valuable career and personal development investment. Following the tips outlined in this article can make the most of your conference experience.
Before attending, do your research, set goals, and plan your schedule. During the conference, network, attend sessions, and take notes. After the conference, follow up with contacts, review your notes, and seek out post-show and educational resources to continue your learning.